Root Word Tree and Other Vocabulary Freebies
Categories
Freebies
Free root word tree and more! Over eighty percent of the words in the English language contain a root word. The origin of the root word may be Greek, Latin, Old English, Anglo-Saxon, or even Proto-Indo-European! A Word Tree is a tree-shaped graphic organizer to help students understand root words and the words they generate. Using a root word tree, students discover that prefixes, roots, and suffixes combine to create meaning. A root word tree is one of my favorite ways to teach word origins. Below, you'll find links to a free root word tree and other freebies for teaching root words in your classroom. Click the images to get the freebie.

1. Free Intro to Greek and Latin Roots Interactive Notebook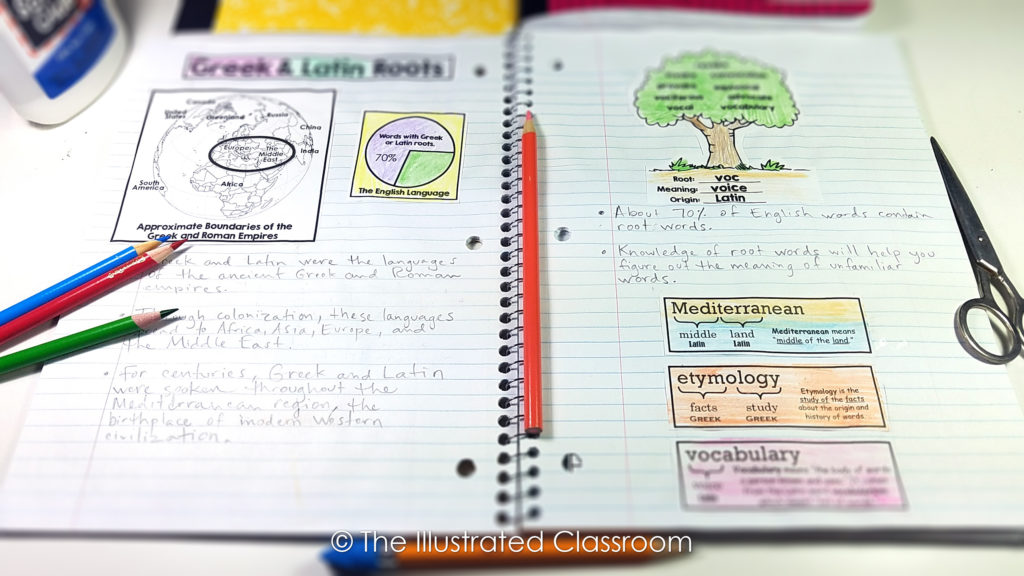 This free interactive notebook activity answers two questions about Greek and Latin roots.
Where did they come from?
Why study them?
It's a color, cut, and glue activity. It can be used with any curriculum on Greek and Latin roots. I use it with my Greek and Latin roots interactive notebook.
2. Free Root Word Tree
Root word trees help students spot patterns when spelling and reading. I like to put a blank copy of this one on the Elmo and fill it in while they follow along with smaller versions in their INB. Click here to get it from my TpT store. There's two different versions – one with the boxes and one without. It's free!
There's also a cool video introduction to Greek and Latin roots on YouTube. I show the video when every student has completed the interactive notebook.
For something more advanced, All About Learning Press has a free word-builder root word tree. It's fun!

3. Free Greek and Latin Roots Flash Cards
These visual flash cards are the backbone of my Greek and Latin roots mnemonic unit. I love them because they are engaging, easy-to-use, and big enough to use with the entire class at the same time. They work with PowerPoint

4. Free Word Wall Cards
A set of ten word wall cards that illustrate and define ten numeric Greek and Latin roots.

5. Free Etymology Scavenger Hunt
Provided in editable form, in case you need to customize it to work with the dictionaries in your classroom.